Adeniran Ogunsanya College of Education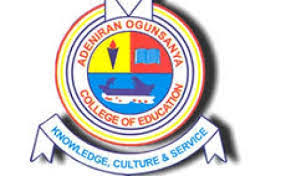 Adeniran Ogunsanya College of Education also called AOCOED, is a state owned college located in Lagos State south west Nigeria. The college was founded in 1958 with a student population of about 90 students. The college was established to produce more manpower in the education sector of Nigeria. It's establishment was relatively promoted by missionaries.
However, Adeniran Ogunsanya College has no religious affiliation. Both Christians and Muslims can apply for admission into the college and has a large student body. The student body is quite diverse with school fees being less than N100,000. Adeniran Ogunsanya College also trains her students in entrepreneurship in an attempt to reduce unemployment in Nigeria.
The college has good facilities for her students, and offers full time ND/HND programs in Vocational & Technical education, Arts management & Social Sciences.
share on :
Courses
Arts, Management & Social Science
English Language
Christian Religious Studies
Geography
Economics
English Language
French
Hausa
Igbo
History
Islamic Studies
Music
Theatre Arts
Political Science
Yoruba
Vocational and Technical Education
Technical Education
Business Education
Home Economics
Fine and Applied Arts
Technical Education