African Thinkers Community of Inquiry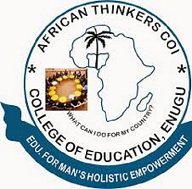 African Thinkers Community of Inquiry abbreviated as coicoed is a privately funded and managed polytechnic located in Enugu state South East Nigeria. The private college takes a unique and potentially better approach in training of her students to be better teachers by giving them theoretical knowledge and allowing students to use that knowledge to provide solutions to real life problems.
Students learn critical thinking etc. The college was founded in 2004 and has no religious affiliation, the college also admits students from different parts of the country the student body is currently not so large and not so diverse compared to other colleges in Nigeria. African Thinkers Community of Inquiry school fees goes for about N100,000. The college offers several facilities to make a good learning experience for her students, some of these facilities include well-furnished library, good road network, power etc.
We don't have sufficient information as to whether the college offers accommodation/hostel facilities for her students. The college offers programs cutting across Science & Technology, Arts, Management and Social Science.
share on :
Courses
Medicine & Pharmarcy
Medicine & Surgery
Arts, Management & Social Science
Political Science
Ecumenism
English Language
Guidance and Counselling
Education Management
Adult Education
Business Education
Early Child Care
Igbo
Science & Technology
Computer Science Education
Mathematics
Integrated Science
Chemistry
Physics
Biology