Akwa Ibom State College of Education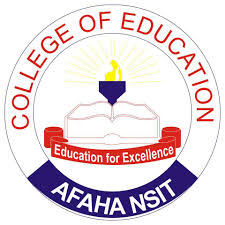 Akwa Ibom State College of Education is a college located in Etinan, Akwa Ibom State, South South Nigeria. The college was established in 1990 shortly after the creation of Akwa Ibom State after an observation of the rapid increase in interest in technological in Akwa ibom. The college aims to be among the elite colleges in Nigeria, producing excellent students who go on to great teachers.
Students are trained to be excellent in everything they do. The college is funded and managed by the state government of Akwa Ibom. The college sometimes referred to as AKSCOE provides a conducive environment for learning, providing her students with facilities like an e-library, ultra-modern Classrooms and Lecture theatre, good road network power etc.
The college has some affiliation to the Christian religion, however admits students irrespective of their religious and cultural background. Akwa Ibom State College of Education has very affordable tuition, we don't have sufficient information as to whether it had accommodation facilities/hostels for her students. The college offers programs in Agriculture, Sciences, Technology, Social Sciences and Commerce.
share on :
Courses
Agriculture
Agricultural Education
Arts, Management & Social Science
Adult Education
Business Education
Economics
Political Science
English Language
French
Social Studies
Educational Foundation
Curriculum Studies
Nigerian Languages
Home Economics
Early Childhood Care Education & Primary Education Studies
Science & Technology
Biology
Chemistry
Physics
Mathematics
Computer Science
Integrated Science
Technical Education
Physical & health Education