College of Education, Warri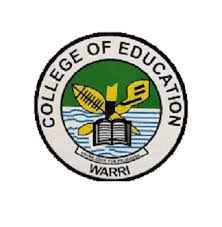 College of Education, Warri established in 1979 is a state owned and managed college of education located in Delta State, South South, Nigeria. The college has produced a lot of quality teachers since it came into existence. Students are trained to become excellent teachers in order to be useful to the educational sector and Nigeria at large.
The college has no religious affiliation, the college also admits students from different parts of the country irrespective of their ethnical background. The student body is large and diverse. The college tuition is very affordable and The colleges provides several facilities for her students, some of which include accommodation facilities etc for her students.
The college offers programs for her students in Sciences, Social Sciences and Commerce.
share on :
Courses
Agriculture
Agricultural Science
Arts, Management & Social Science
Economics
English Language
Fine And Applied Art
French
Isoko
Itsekiri
French
History
Home Economics
Geography
Christian Religious Studies
Social Studies
Theatre Arts
Science & Technology
Biology
Chemistry
Computer Education
Integrated Science
Computer Science Education
Primary Education Studies
Physical and Health Education