Federal College of Education, Obudu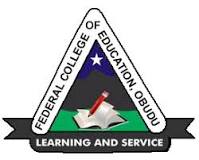 Federal College of Education, Obudu located in Cross River State South South Nigeria is a federal college of education established in 1983. The college aims at training students that are excellent in academic and teaching profession. Said students are trained in knowledge and discipline to make tangible impact in the Nigerian education sector.
The college being federally established has no religious affiliation, the college also welcomes students from different parts of the country. Ethnic background shouldn't hold much eight in the admission selection process. The student body id large but not so diverse compared with some other colleges of education in the country.
Tuition in this college is very affordable and students are provided with accommodation facilities, library, good classroom and road network etc. The college offers academic programs in Science and Technology, Social science and Commerce.
share on :
Courses
Arts, Management & Social Science
Adult and Non-Formal Education
Business Education
Christian Religious Studies
Early Childhood Care Education
Economics
English Language
French
Hausa
Igbo
Science & Technology
Biology
Chemistry
Computer Education
Computer Science Education
Geography
Integrated Science
Mathematics
Political Science
Theatre Arts
Primary Education Studies
Social Studies
Yoruba