Federal College of Education, Okene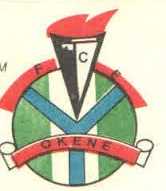 Federal College of Education, Okene or fceokene as it is commonly called is a federal college located in Kogi State Southern Nigeria. The college since it was established trains students to take on different roles in the Nigerian education sector, most of these roles are teaching roles. The college has no religious affiliations it is a federal funded and managed institution.
The college also welcomes prospects from different parts of the country irrespective of their background. Student body is large and quite diverse in this college. The college offers several facilities to her students to make them have the best academic sty, some of these facilities include, Hostels, Classrooms, Good road network, Library etc.
Federal College of Education, Okene's tuition is very affordable going for less than 100,000 naira, it offers fulltime courses in More Social Science & Commerce courses than in Science Courses.
share on :
Courses
Arts, Management & Social Science
Christian Religious Studies
Islamic Studies
English Language
Educational Management
French
Social Studies
Guidance & Counselling
Science & Technology
Mathematics
Biology
Chemistry
Integrated Science
Human Physical And Health Education