Shehu shagari College of Education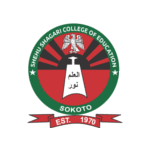 Shehu shagari College of Education is a state funded and managed college located in Sokoto state, North West Nigeria. The college was established in October 1970 as result of the lack of competent teachers for post primary school education in Sokoto. The college has since produced teachers that can teach beyond the primary school level of education.
Shehu shagari College of Education has a vision of being a center that trains excellent teachers thereby realizing sufficient manpower to the education sector in Nigeria. The college again is state funded and her community is relatively affiliated with the Islam Religion. The students body isn't so diverse in terms of Age and ethnic group, consisting of students predominantly from Northern Nigeria.
Tuition is very affordable going for less than N100,000 and the college also offers Accommodation facilities to her students. The college has a dress code that must be complied with by all students, Shehu shagari College of Education offers programs across Science & Technology, Social Science, arts and management courses.
share on :
Courses
Arts, Management & Social Science
Arabic Medium
Arabic
Economics
English Language
Hausa
History
Islamic Studies
Mathematics
Fine and Applied Art
Home Economics
Accounting
Accounting
Accounting
Social Studies
Science & Technology
Biology
Chemistry
Computer Science
Integrated Science
Mathematics
Physical Health Education
Statistics