Tai Solarin University of Education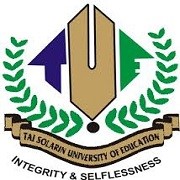 Tai Solarin university of education is a state university located in ijebu-ode, Oguns State south west Nigeria. The university was founded in 2005 and is the second state university to be approved in Ogun state. Ogun state is the only state in Nigeria to have two state universities and it has the most universities in Nigeria. The university has no religious affiliation and accepts syudents from different parts of the country irrespective of their cultural or religious background.
Tai Solarin university of education courses are bachelors degrees in Science and Social Sciences courses but focuses primarily on education courses, from subjects in education, education foundation, technical education etc. Admission into this university is very competitive and the university has a very large student body and staff population. We believe the university student body would be diverse consisting of people from different parts of the country passionate about education.
Tai Solarin university of education school fees is more expensive than a number of state universities (N100,000 - N200,000 ) but it's still very much affordable. The university has quality infrastructure, electricity supply hostels, college building etc.
JAMB/UTME Cut off Mark: 170
share on :
Select Criteria to Pick School
Had a low JAMB score?
No problem! Just tell us where you want to study & what you can afford, we would show you universities that MIGHT still admit you despite your low score.