Ebonyi State University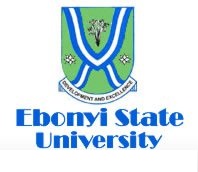 Ebonyi state university is a state owned university maintained and managed by the Ebonyi state government since its establishment in the year 2000. The university hopes to be referred to as a world class institution in academics, research and producing quality graduates. The university atmosphere encourages learning and creativity. Ebonyi state university is culturally diverse we know this because the university has no religious affiliation, those chances are the students are predominantly form south south and south east region of Nigeria.
The University offers various degree programs cutting across law, science, agriculture, social sciences, medicine and education. It has a large student and staff body, tis indicates that admission into this university is very competitive. Ebonyi state university school fees ranges from [N100,000 - N200,000], it provides accommodation for its students and has a very affordable tuition.
JAMB/UTME Cut off Mark: 180
share on :
Select Criteria to Pick School
Had a low JAMB score?
No problem! Just tell us where you want to study & what you can afford, we would show you universities that MIGHT still admit you despite your low score.