Igbinedion University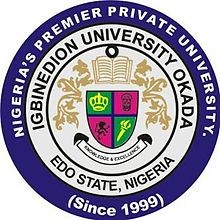 Igbinedion University is a private university located in Benin City, edo state Nigeria, it was founded in 1999 by Sir Gabriel Osawaru Igbinedion as a profit making institution. Igbinedion University has no religious affiliation and thus welcomes student from different religious and cultures across the country. This makes it's student population very diverse.
The university offers degrees in courses cutting across Law, sciences, social sciences, engineering, medicine etc. Admission into this university is highly competitive but yet relatively not difficult as the university welcomes students with open arms. It is very much interested in developing as many individuals at it can. The university is co-educational. It provides accommodation facilities for its students and has a library and other facilities needed in a university like good road network etc.
Igbinedion University school fees goes a range of 500,000- n800,000 which is quite fair compared to a number of private universities in the country, it has over six thousand students and about a thousand staff resulting in a staff student ratio of about 1:6.
share on :
Select Criteria to Pick School
Had a low JAMB score?
No problem! Just tell us where you want to study & what you can afford, we would show you universities that MIGHT still admit you despite your low score.