Joseph Ayo Babalola University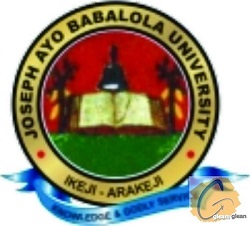 Joseph Ayo Babalola University is a private Christian university located in Ikeji-Arakeji, Osun State South western Nigeria, The University was named after Joseph Ayo Babalola the founding father of CAC. The university was founded in 2006 and was approved by the Nigerian university commission. The university student population is decently diverse as it accepts students from different cultural backgrounds in the country, however being a Christian university its students are generally Christians.
Admission into this university is quite competitive. The university accepts students into various degrees cutting across Agriculture, Sciences, and Law etc. We have no figure for the university staff or student population but we believe it would be moderate.
Joseph Ayo Babalola University school fees ranges from N500,000 - N650,000, it also provides accommodation for its students and other infastrucuire like a library and good college buildings.
JAMB/UTME Cut off Mark: 160
share on :
Select Criteria to Pick School
Had a low JAMB score?
No problem! Just tell us where you want to study & what you can afford, we would show you universities that MIGHT still admit you despite your low score.