Landmark University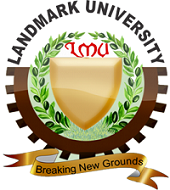 Landmark University is a private Christian university established by the founder of Covenant University in 2011. The university is located in Omu-aran Somewhere in Kwara State located in north central Nigeria. Landmark University was primarily established to meet the agricultural needs of Nigeria, seeing the lack of skilled manpower in this sector and trains it's students in areas of Farming and agriculture. The university offers degrees programs in courses cutting across agriculture, Sciences, Engineering, Social science, Arts and Management course.
The University has a decently diverse student body with students from different cultural backgrounds in the country but are predominantly Christians and aregenerally of the same age bracket. Admission into Landmark University is not so competitive as the university still has a relatively low student population and even staff population. The student staff ration should be about 8:1. Landmark University school fees ranges from n600,000 - n700,000 and it has beautiful structures, they have wonderful hostels, a university library, chapel etc.
Life in Landmark University is pretty cool despite the rules students here know how to enjoy themselves. The students make the corporate dress code look good. It is also a very spiritual intensive university as it trains students in the way of GOD.
JAMB/UTME Cut off Mark: 180
share on :
Select Criteria to Pick School
Had a low JAMB score?
No problem! Just tell us where you want to study & what you can afford, we would show you universities that MIGHT still admit you despite your low score.