Obong University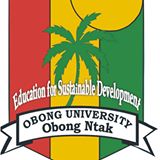 Obong University a university located in South South Nigeria, Akwa Ibom state. The university is built on chrismation values and academic excellence. The university obong trains its students to be responsible and be solution providers to problems within their society.
Obong University was founded in 2007 as a private Christian university offering various degree programs in course cutting across Arts, management, Socials Science and Sciences. The University has a very low student and staff population resulting into a student staff ratio of about 5:1, it admits students from different parts of the country .
Obong University school fees seems fair going for between n300,000 - n400,000 and it varies based on the servies paid for, some of which include accommodation for her students and other infastrucuire like a library and good college buildings.
JAMB/UTME Cut off Mark: 150
share on :
Select Criteria to Pick School
Had a low JAMB score?
No problem! Just tell us where you want to study & what you can afford, we would show you universities that MIGHT still admit you despite your low score.