Pan-Atlantic University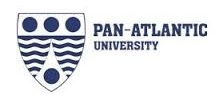 Pan-Atlantic University is an expensive private university located in Lagos state, the most economically buoyant state in the entire West Africa. The university is relatively expensive in terms of tuition and was founded in 2002. The university was formerly known as Pan African University.
The university has a relatively diverse student body and offers various academic degree programs cutting across Sciences and Social and managerial Science. Admission into this university isn't so competitive pretty much because Pan-Atlantic University tuition isnt affordable to many nigerians and it goes for 1,000,000- above.
The university however also admits international students and provides them with accommodation, ATM machines etc.
JAMB/UTME Cut off Mark: 180
share on :
Select Criteria to Pick School
Had a low JAMB score?
No problem! Just tell us where you want to study & what you can afford, we would show you universities that MIGHT still admit you despite your low score.