Plateau State University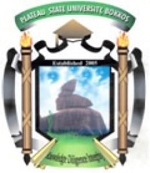 Plateau State University is run and maintained by the plateau state government, Located in north central Nigeria, Plateau state university was founded in 2005, The university was established so more indigenes of the state have a chance at furthering their education. The school isn't affiliated to any religion and has a pretty diverse student body in terms of religious and cultural backgrounds.
Plateau State University courses are bachelors programs in courses cutting across Agriculture, Science, Social science, management and arts courses. The university admission is moderate compatible and it accepts students from all parts of Nigeria. The university has standard infrastructure in terms of accommodation, facilities, libraries structure, roads etc.
Plateau State University school fees is less than N100,000 which is cheap and chances are it is largely populated but we don't have the figures for student of staff population.
share on :
Select Criteria to Pick School
Had a low JAMB score?
No problem! Just tell us where you want to study & what you can afford, we would show you universities that MIGHT still admit you despite your low score.