Tansian University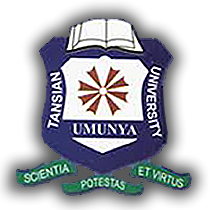 Tansian University is a Private University located in Anambra state South Easters Nigeria, The University was established in 2007. The university is approved by the National Universities commission as a private Christian University.
Tansian University The University is committed to equipping it's graduates with skilled manpower for national and international relevance, It also intends to train student not only In knowledge but also in character and morals. The university student body isn't to diverse. Tansian university courses are Bachelor's degrees in areas cutting across education, Science, Social Science and Management courses. Admission into this university is competitive and the university admits both local and international students. The university provides accommodation for it's students amongst other facilities.
Tanisan University school fees ranges from about N200,000 - N300,000 and so it is affordable and relatively cheap for a private university.
JAMB/UTME Cut off Mark: 120
share on :
Select Criteria to Pick School
Had a low JAMB score?
No problem! Just tell us where you want to study & what you can afford, wed show you universities that MIGHT still admit you despite your low score.