Taraba State University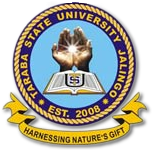 Taraba state university located in Jalingo, Taraba state university is a state owned university managed by the Taraba state government. Jalingo is the capital of Taraba state. The university was founded in 2008, Taraba state university admits students from different parts of the country irrespective of their religious or cultural background however, The chances are the university has a relatively low student and staff population and also the student body isn't so diverse.
The university is located ni north east Nigeria not many Nigerians would go there to study. Admission might not e so competitive for individuals who are interested in learning irrespective of the location. Taraba state university school fees is affordable and among the cheapest in the nation. and offers bachelor's degrees in Agriculture, sciences, social science and education.
The university also provides accommodation for its students.
share on :
Select Criteria to Pick School
Had a low JAMB score?
No problem! Just tell us where you want to study & what you can afford, we'd show you universities that MIGHT still admit you despite your low score.