2021 Africa International Scholarships at Kings College London UK
Kings College London, is a publi research based and focused institution located in london, UK. The university is currently offering scholarship oppurtunities to interested candidates who are interested in taking full-time MPhil/Ph.D. programmes at the university.
The experience as a student in King's College is very good, you get access an incredibly vibrant and intelligent community of students and staff, who are often involved in a range of activities that are both fun and intellectually rewarding. You get to acquire knowlege, meet amazing people, participate in futuristic research and work with some of the smartest doctors and professors in the world.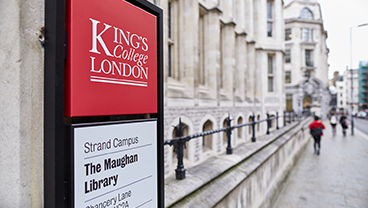 Kings College London is argauably one of the best universities in Europe and ultimately the world to get your PhD. The professors and the alumni are solid and are experts in their various research areas. You get access to in depth knowledge in research that would play significant improvements to people putting you ahead of the curve compared to other PhD students. You will always be one step ahead with the exposure you recieve from studying here.
Application Deadline:
30th April 2021
Type:
Phd (Doctorate Degree)
Value:
An annual living allowance (Please not that this will be based on the UKRI rate).
Complete International Student school fees.
Research Support Grant (up to £5k/year, but this varies according to different faculties)
Duration: 4 Years
Eligible Countries: Most Africa Countries, Kindly confirm from the official scholarship page that you are a national of an eligible country.
Eligibility: Scholarship Applicants are required to;
have been offered and accepted an admissions offer for an MPhil/Ph.D. programme at King's as at 30 April 2021
be liable for tuition fees at the higher international rate
be citizens/nationals of an eligible African country or a permanently resident in an eligible African country
intend to begin a full-time MPhil/Ph.D. programme at King's College London in the 2021-22 academic year which begins from October 2021 and and intend to conclude the program no later than July 2022.
conduct African relevant research that cuts accross a combination of two or more of the given fields or disciplines
submit an application for the scholarship oppurtunity before the deadline which is 30th of April 2021
Application Process:
Click here to get details
Visit The
Official Website
For More Information
Tags:
UK Universities
UK Scholarships
Postgraduate Scholarships
Phd Scholarhips
share on :
Select Criteria to Pick School
Had a low JAMB score?
No problem! Just tell us where you want to study & what you can afford, we would show you universities that MIGHT still admit you despite your low score.