2021 International HCI Skills Gateway Scholarships at University of Edinburgh, UK
University of Edinburgh, one of the top universities in Scotland and ultimately in the United Kingdom is offfering scholarshop oppurtunities to international students across the world in a number of fields accross engineering, like sustainable energy systems, structural and fire engineering, urban Strategies and Design amongst other.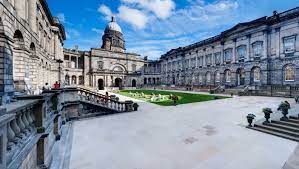 University of Edinburgh is one of the most prestigious universities in the world, ranked as high as 24th globally, to give you some context of how much of a big deal studying in a university like this would be. While being a top university and the admission competitiveness is pretty high, the university admission process is pretty straight forward.
In terms of research prowess, University of Edinburgh is also a world leader, making significant contributions across different fields, particularly in engineering. If your study here on this scholarship offer, you will be learning from some of the top minds in the world in engineering with knowlege and practical application that would significantly improve your career in engineering.
Application Deadline:
July 30th, 2021
Type:
Masters and Postgraduate Certificate
Value:
~£9,000
Eligible Countries: International
Eligibility: Potential Candidates who are interested in taking advantage of this oppurtunity are expected to;
be proficient in both written and spoken English Language
have good academic records in their previous degrees.
be domiciled or working in the South-East of Scotland, more specifically the councils areas of East Lothian, Mid Lothian, West Lothian, City of Edinburgh, Fife and Scottish Borders and is open to UK, European Union and international students.
be working or have clear working aspirations in the Housing, Construction and Infrastructure sector (this criterion is primarily important for the interested candidates looking for the MSc in leading Major Programmes).
Application Process:
Interested candidates are required to have been admitted into a masters, diploma or postgraduate certificate program at the University of Edinburgh. There after, the candidate is required tocomplete the
online application form
for this scholarship program.
Visit The
Official Website
For More Information
Tags:
UK Universities
UK Scholarships
Postgraduate Scholarships
Masters Scholarhips
PhD Scholarhips
share on :
Select Criteria to Pick School
Had a low JAMB score?
No problem! Just tell us where you want to study & what you can afford, we would show you universities that MIGHT still admit you despite your low score.