2021 International Maverick Scholarships at Minnesota State University Mankato, USA
Minnesota State University, Mankato is offering undergraduate scholarship oppurtunities of about $4,000 dollars to interest applicants who intend to study at the university. The University is also known as Minnesota State university and it is a publicly funded and managed institution.
The University offers about 130 undergraduate degree programs covering a broad range of subject areas, It has an amazing student life for prospects with about 220 student groups on the university's amazing campus facility. The university also provides accomodation facilities to students who intend to live on campus.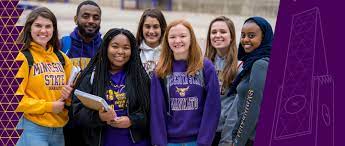 Minnesota State University promises to be the university that helps you birth your career goals and aspirations and provides you with the support and the tools you need to reach your dreams. The university welcomes in local and international students from across the world. There are lots of scholarship and financial aid options like the one we are discussing now.
Admission into this university is quite competitive but no worries, they are very flexible with ACT/SAT scores but it is best to bring in your best when applying. Athletisim is also quite mainstream here and it is a part of the university culture with lots of teams accross hockey, basebaall etc. If you love sports then you will definitely love to study here.
One really great art about the university is her studen support services, they are so invested in your growth in school and helping you become the best version of yourself.
Application Deadline: 1st July 2021
Type: Undergraduate
Value: $3,890
Eligible Countries: International
Eligibility: Potential Candidates who are interested in taking advantage of this oppurtunity are expected to;
earn a at least 12 credits each semester
Earn GPA of 2.5 in a term or a cumulative Minnesota State Mankato GPA of 3.0.
be legally permitted to stay in the USA by having a valid F-1 or J-1 immigration status.
complete six community service projects each academic year.
Application Process:
Applicants are required to complete their application through the university's
online portal
. Applicants who will be accepted by the university will be considered.
Visit The
Official Website
For More Information
Tags:
USA Universities
USA Scholarships
Undergraduate Scholarships
share on :
Select Criteria to Pick School
Had a low JAMB score?
No problem! Just tell us where you want to study & what you can afford, we would show you universities that MIGHT still admit you despite your low score.