2021 International Student Scholarships at State University of New York, USA
State University of New York, USA (SUNY) is offering undergaduate scholarship awards to interested international students who intend to take an undergraduate degree program at the university. SUNY as the name implies is located in New York, one of the most vibrant and dynamic states in the USA.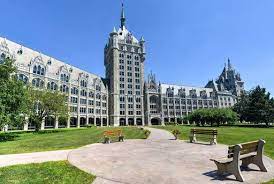 State University of New York is a champion of climate change research, it is a diverse university with a large student population consisting of both local and international students accross the world studying there. Admission into the university is quite competitive as they bring in the brightese minds in different fields into the community.
The university has about 9000 internship oppurtunities and graduating from here is a sure booster in your career prospects after school as graduates from the State University of New York are typically known by employers accross the country and ultimately the world to be impeccable staff.
The university has about 4300 undergraduate programs , they spend extensively on research and have create over $26 billion in economic impact in New York. Student athletisim is really encouraged here if that is something you are interested in, there are 750 athletic teams and the university have about 64 campuses
The facilities on the State University of New York campuses are really good and mordern, the serenity of the enviroment alone gets you really motivated to study and go about your daily tasks. SUNY's professors are also experts in their fields, their staff community includes Nobel Laurettes and other research experts.
Overall, it would be an great experience to study here.
PS: The number of scholarship awards to be given is not speciffied at the moment and the amount varies.
Application Deadline:
August 6, 2021
Type:
Undergraduate
Eligible Countries:
International
Eligibility:
Interested Candidates must;
have good academic records, this will be evident in the applicants high school certificates
demonstrate tht they have sufficient knowledge of the language of instruction of the university.
Please note: Preferences will be given to applicants who are newly admitted ot who are matriculated graduate international students.
Application Process:
Candidates who intend to apply for the scholarship oppurtunity are expected to have been
admitted
into an undergraduate program at the State University of New York at New Paltz. Please note that International candidates are given preference and therefore automatically considered based on their completed General Application.
Visit The
Official Website
For More Information
Tags:
USA Universities
USA Scholarships
Undergraduate Scholarships
share on :
Select Criteria to Pick School
Had a low JAMB score?
No problem! Just tell us where you want to study & what you can afford, we would show you universities that MIGHT still admit you despite your low score.