Fountain Unveristy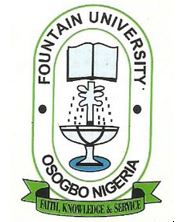 Fountain Unveristy is a private university located in Osun state, South west Nigeria, It is the second Islamic university located in this part of the country in 2008 it was established by the Nasrul-lahi-li fathi (NASFAT) Society of Nigeria. As earlier stated it is an Islam based university so though culturally diverse it isn't religiously diverse as the bulk of its student body are Muslims. Fountain Unveristy offers various bachelor's degree programs cutting across Arts, management and Social Sciences, Sciences, etc. Admission into this university is relatively competitive but it shouldn't be a problem. Most private universities aren't as competitive in terms of admissions compared to federal and state universities. Fountain Unveristy school fees is pretty cool [n300,000 - n400,000], it accepts both local and international students provides accommodation facilities for her students and the university owns a library.
JAMB/UTME Cut off Mark: 120
share on :
What will you study?
Several studies show that students perform better in college when they enrolled in courses/majors they are really interested in, their grades are generally better and they often have no regrets of studying that major/course after school. Let's Help you find the perfect course for you.
Go to Course Selector
Select Criteria to Pick School