Adamawa State University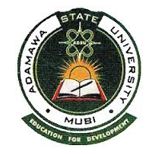 Adamawa state university is an organization funded by the State government of Adamawa located in North east Nigeria. The university was founded in 2002 as a private university and accepts students irrespective of their religious and cultural backgrounds. The university has a pretty diverse student population and offers various degree programs cutting across Sciences, Agricultural Science, and Education Social Sciences etc. Being a state university the university has a large student population we don't have the figures but believe it would have a decently large student body. The university has a competitive admission process as there are limited spaces available. Adamawa state university has accommodation facilities and tution/fees ranges from between N100,000 - N200,000.
JAMB/UTME Cut off Mark: 170
share on :
What will you study?
Several studies show that students perform better in college when they enrolled in courses/majors they are really interested in, their grades are generally better and they often have no regrets of studying that major/course after school. Let's Help you find the perfect course for you.
Go to Course Selector
Select Criteria to Pick School
Had a low JAMB score?
No problem! Just tell us where you want to study & what you can afford, we would show you universities that MIGHT still admit you despite your low score.