Federal University, Oye-Ekiti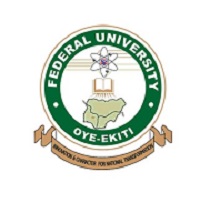 Federal University, Oye-Ekiti is a federal university located in Ekiti state south west Nigeria and was established In 2011 and was accredited by the national university commission. Since it was founded the university has offered bachelor's degree programs in agriculture, engineering, science, technology, arts, management and social sciences. Federal university, Oye-Ekiti has a relatively small student and staff population compared with other federal universities in the country. The student population is moderately diverse with students mostly from south west Nigeria. The students come from different religious affiliations and different age brackets. Admission into this university is not so competitive compared to other federal universities in the country. Federal University, Oye-Ekiti school fees is less than N100k and it provides accommodation and facilities for it's students. Students are also given the liberty to live on or off campus.
JAMB/UTME Cut off Mark: 150
share on :
What will you study?
Several studies show that students perform better in college when they enrolled in courses/majors they are really interested in, their grades are generally better and they often have no regrets of studying that major/course after school. Let's Help you find the perfect course for you.
Go to Course Selector
Select Criteria to Pick School
Had a low JAMB score?
No problem! Just tell us where you want to study & what you can afford, we would show you universities that MIGHT still admit you despite your low score.