Osun State University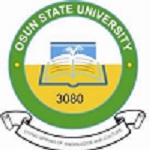 Osun state university located in Osun south western Nigeria is a university run and maintained by the Osun state government. The university was established in 2006 to operate after being approved by the national universities commission. The university has a number of campuses across different parts of Osun state. Osun state university has no student affiliation and admits students irrespective of religious or cultural backgrounds, student's body is diverse in terms of religious.
The university offers bachelors and masters degree programs in courses cutting across, Agriculture, medicine, sciences, social sciences and law. The university has a relatively large student and staff population. Admission into Osun state university is very competitive as students from different parts of the country apply for admission.
The university does not provide accommodation facilities for its student's so students live in different parts in Osun state. However the campuses have good roads and electricity.
JAMB/UTME Cut off Mark: 180
share on :
n100,000 - n200,000
not available
Select Criteria to Pick School
Had a low JAMB score?
No problem! Just tell us where you want to study & what you can afford, we would show you universities that MIGHT still admit you despite your low score.