University of Nigeria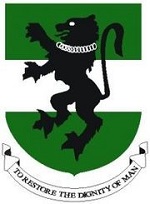 University of Nigeria is a run and manage by the federal government of Nigeria, The University was founded in 1960 in Enugu state south east Nigeria. The university has a very competitive admission process and admits students without taking their religious background, cultural background or age brackets as criteria for admission. This allows for a diverse student body.
The university has a large student and staff population and it offers degree courses in all fields. University of Nigeria school fees is less than hundred thousand naira and it provides hostel accommodation for it's students. The accommodation can't house everyone so a number choose to live off campus.
JAMB/UTME Cut off Mark: 200
share on :
Select Criteria to Pick School
Had a low JAMB score?
No problem! Just tell us where you want to study & what you can afford, we'd show you universities that MIGHT still admit you despite your low score.